Godkiller: Tomorrow's Ashes vol 2 grows digital+paperback hybrid model with 50% more pages
- Popular sci-horror transmedia franchise increases page counts due to success of digital/paper release model -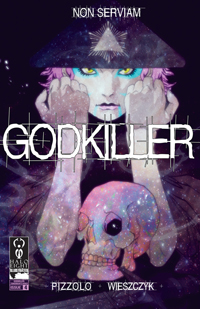 Halo-8 Entertainment opened up pre-orders today for the next mini-series in its popular GODKILLER franchise and has increased page count by nearly 50% (from 96 pages to 136 pages) for the same price: $6.66 digital, $16.66 paper, $19.99 digital-paper hybrid.
"Anna and I were about to get ourselves in trouble by letting this mini-series run longer than it was supposed to," said writer-creator Matt Pizzolo, "but, thanks to the audience support and overall success we had with the first experiment of this hybrid digital/paper model, we're able to afford giving more content for the same price."
In fact, Halo-8′s previous digital-paper hybrid experiment with GODKILLER: TOMORROW'S ASHES Book 1 was so successful it inspired Pizzolo to partner with Steve Niles (writer 30 DAYS OF NIGHT) and Brett Gurewitz (owner Epitaph Records, guitarist-songwriter Bad Religion) on Black Mask Studios, a new publisher-distributor devoted to the model.
"We're blessed with a pretty diverse audience that supports our stories regardless of the format we use as an interface. It's cool that people learn about Godkiller on Netflix or Xbox or an Atari Teenage Riot show and then come to the comics for more story. Most of those readers don't use pull lists so we have to be innovative about getting our comics to them," said Pizzolo.
Pizzolo pointed out that the comic book format has some creative advantages over the animated GODKILLER films.
"Tomorrow's Ashes taps into esoteric theories about using sexual energy as a conduit for the collective unconscious and to power quantum magic, so the visual content gets pretty over the top at times… I mean, I escalated things in the writing and then Anna just took it off the rails–she even surprised me with how far she took it. Walk Among Us had some Jung and Crowley, but we're delving into it a lot more here–and when you dramatize that stuff and see the characters going through it… it can get pretty graphic," said Pizzolo.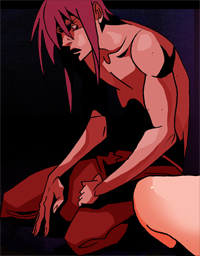 "What's interesting is we actually have a lot more flexibility to explore these themes in the comic book. When we do the illustrated film version, I have a feeling we're gonna dial it back… partly because the threshold for transgressive art shifts wildly between comics & video and partly because video platforms have been getting really conservative lately–iTunes has a different sensibility than Borders did."
GODKILLER's first series WALK AMONG US debuted as both a comic book and an "illustrated film" that married the comic's sequential art with dramatic voice performances by a genre-star studded ensemble including Lance Henriksen (ALIENS), Davey Havok (singer AFI), Danielle Harris (HALLOWEEN), Nicki Clyne (BATTLESTAR GALACTICA), Bill Moseley (THE DEVIL'S REJECTS), Lydia Lunch (art-punk icon), Tiffany Shepis (NIGHTMARE MAN), and Justin Pierre (singer Motion City Soundtrack) with music by Atari Teenage Riot. The experimental animated film was distributed by Warner Brothers on VOD to 80 million homes (through Time Warner Cable, Comcast, and dozens more) before hitting Netflix Streaming and Hulu.
GODKILLER: TOMORROW'S ASHES vol 2: Spiderland is written by Pizzolo and illustrated by Anna Wieszczyk (LUCID) who's been GODKILLER's sole artist since it debuted in 2008.
Tomorrow's Ashes release schedule
Book I: The Scars That Bind
..Issue 1 – delivered digitally to subscribers on Tues Jan 24
..Issue 2 – delivered digitally to subscribers on Tues Feb 21
..Issue 3 – delivered digitally to subscribers on Tues Mar 20
..Graphic Novel – street date Fri Apr 6
Book II: Spiderland
..Issue 1 – delivered digitally to subscribers on Tues May 29
..Issue 2 – delivered digitally to subscribers on Wed June 20
..Issue 3 – delivered digitally to subscribers on Tues July 10
..Issue 4 – delivered digitally to subscribers on Tues July 31
..Graphic Novel – street date Tues July 31
Book III: For Those I Love, I Will Sacrifice
..dates/issues TBA