Halo-8 launches tech incubator, demos film disruptor at Comic Con 2011
Platform aims to disrupt film & comic storytelling by integrating feature documentaries and films with non-linear, multi-platform story content through hypertext & transmedia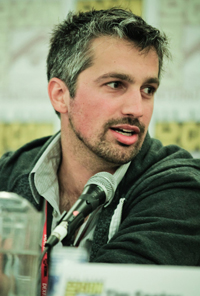 San Diego Comic Con has long been a critical launchpad for media properties, but Halo-8's announcement marks the first time a tech startup was launched from the massive pop culture event.
During the Halo-8 Transmedia panel Saturday, Halo-8 president Matt Pizzolo revealed a new tech incubator within Halo-8 called EtherLabs that focuses on disruption of media-as-usual. He then gave a first look at its new, in-development transmedia platform EtherFilms.
Pizzolo (who created the popular Godkiller transmedia franchise) was joined on the panel by Tim Seeley (creator of legendary Hack/Slash indie franchise), Brea Grant (comics writer, actress of Heroes, Dexter), and Patrick Meaney (director of documentaries Grant Morrison: Talking With Gods, Warren Ellis: Captured Ghosts). Pizzolo demonstrated the EtherFilm technology with Halo-8 content featuring Oscar-winning actress Helen Mirren, Avengers-director Joss Whedon, AFI singer Davey Havok, and Halloween star Danielle Harris.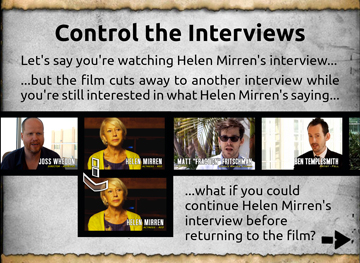 "EtherFilms are designed to disrupt traditional film & TV storytelling methods. While technology for production and distribution has shifted dramatically, the storytelling formats themselves haven't changed significantly in 100 years," said Pizzolo. "We believe storytelling has to evolve."
Though Halo-8 is not known as a tech firm, the studio has consistently married art with technology for innovative approaches to media production, distribution, and storytelling, most recently with Godkiller's "illustrated film" format that merges comic book sequential art with cinematic storytelling for a unique style of transmedia animation. The critical and financial success of Godkiller enabled Halo-8′s growth in the emerging transmedia sector.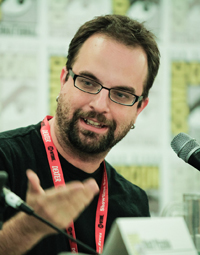 Recently, Pizzolo and Halo-8 partner Brian Giberson served as writer-producer and director, respectively, of the upcoming startup-culture documentary CTRL + ALT + COMPETE by Emmy-winning production company Ten100 (ESPN's Pony Excess). During production of the film, Pizzolo and Giberson interviewed dozens of tech luminaries including Nolan Bushnell (founder Atari), Mike Maples Jr (early backer of Twitter, Digg), Mark Suster (entrepreneur-turned-VC), Pat McGovern (founder IDG), Matt Marshall (founder VentureBeat), Cliff Bleszinski (creator Gears of War), and Felicia Day (creator The Guild). Pizzolo cited those interviews as a major inspiration in the decision to launch EtherLabs.
The EtherFilm platform aims to disrupt media storytelling by using feature films and documentaries as linear vessels around which sprawling non-linear worlds of content can be accessed interactively. The functionality is based on integrating hypertext and transmedia into longform video libraries.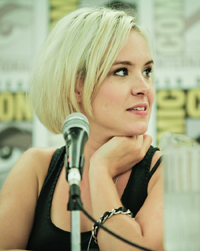 "Documentaries are a perfect starting point because of their enormous amounts of unused content. Patrick probably shot 100 hours of footage for his two 90-minute documentaries. The other 97% may be apocryphal to the core story, but that doesn't mean it's not compelling and important," said Pizzolo.
"And the types of branded-media franchises Comic Con champions need a platform like this to organize the sprawl of multi-platform content audiences demand. It makes no sense that after watching True Blood on HBO it's more convenient for me to watch Boardwalk Empire than to read IDW's True Blood comic books. Media access should be organized by content, not format," Pizzolo continued.
Halo-8 is leveraging its transmedia library to build EtherFilms, a platform that is dependent on large volumes of branded, franchisable, multi-platform content. Halo-8 titles getting the first round of EtherFilm treatment include: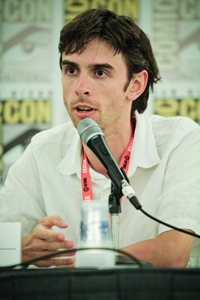 - Warren Ellis: Captured Ghosts – upcoming documentary about the comics writer/futurist whose comics were adapted into last year's Summit blockbuster RED. The film features interviews with Helen Mirren (RED), Joss Whedon (The Avengers), Patton Oswalt (Ratatouille), Wil Wheaton (Star Trek), futurist Bruce Sterling, and more.
- Grant Morrison: Talking With Gods – documentary about the comics writer behind re-envisionings of Superman, Batman, X-Men, and more. This predecessor to Captured Ghosts will be dynamically integrated with the newer documentary across the EtherFilms platform.
- Godkiller: Tomorrow's Ashes – sequel to the "illustrated film" Godkiller that built Halo-8′s strength in multi-platform storytelling across animation, comics, serialized novels, and games. The animated series features performances by Lance Henriksen (Aliens), Davey Havok (singer AFI), Bill Moseley (The Devil's Rejects), Danielle Harris (Halloween franchise), Nicki Clyne (Battlestar Galactica), and Justin Pierre (singer Motion City Soundtrack).
- Hack/Slash – upcoming "illustrated film" based on Tim Seeley's mega-popular indie franchise about a young heroine who battles horror movie villains. It was announced during the panel that Brea Grant (Heroes, Dexter) will perform the coveted lead role of Cassie Hack.